OUR PURPOSE

"You gave me my son back!" A heartfelt thank you, from a Father, at our Outreach event.

"You're back!" A year earlier his son returned from the battlefield and wasn't coping well; on drugs, excessive alcohol, with a quick temper and the verge of suicide. Our volunteer provided tools that helped him; "Saved my son," he declared.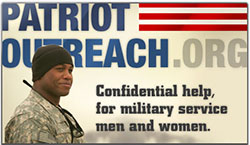 In 2018, we hosted over a thousand outreach efforts and assisted in multiple States and Overseas. Souls touching Souls, Making a Difference! This is what it's all about.

Patriot Outreach has successfully assisted our Armed Forces, Veterans, Retirees, Government Employees, Battlefield Contractors, First Responders and their Families (Patriots). We have delivered without charge, effective and confidential tools, along with coping strategies, to combat anger, stress, and even PTSD.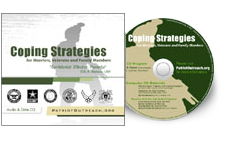 We help bridge the gap between those who seek professional help and the silent majority. For example,Patriot-outreach provided over 650,000 free Coping Strategies CDs and downloads for all Patriots who requested them.

We provided funding to Patriots attending PTSD Seminars and Workshops; provided financial assistance to disabled Veterans for home renovation; provided counseling (outsourced), treatment and educational resources to those individuals and families suffering from stress – treatment and sustainment.

Special efforts in 2019 focus on Families and Caretakers, who also need support to recover from debilitating stress associated with recovery. Since our founding in 2006, we have met many who suffered from PTSD symptoms in silence due to the stigma associated with the treatment of mental illness. It was alarming to discover how many individuals contemplated or attempt suicide.

OUR PROGRAMS


Our team emphasizes non-intrusive support, collaborating with those who share a common concern for the health and well-being of the brave men and women who selflessly devote their lives to the defense of liberty and our nation.

We offer an extensive range of non-intrusive therapeutic support from canine and equine, to music and art, from employment and financial support to recreational and self-awareness.

Our signature resource is a CD called Coping Strategies. This tool provides useful skills for Patriots and health professionals. The CD has generated numerous testimonials regarding its effectiveness in decreasing stress associated with PTSD symptoms.

We provide useful guidelines, reports articles, links, and special instructional audio programs, NOT because we say so, but through the testimonials and lives saved.

Working Together, Making A Difference!


We are combating the greatest shortfalls affecting our Patriots today, assisted living and dementia while offering a setting to enhance their mental well-being to overcome life's inherent challenges. Our projects provide support, rehabilitation and employment opportunities for our Patriots.
Patriot Outreach has started a National Fundraising Campaign to secure the funds needed to begin construction:

Continuum Care Retirement Campus (includes Therapeutic Horse Ranch/Dementia Village/Social Clubs)


Traumatic Brain Injury Hospital


Outreach Centers
Our facilities will feature state of the art green technologies with the focus on becoming an international model for excellence for self-sustaining, stress-free physical environment facilities while offering a natural atmosphere to overcome life's inherent challenges.

Breaking the Paradigm: Our Continuum Care Retirement Campus (CRCC) will provide a continuum of care and social services; a place where Patriots can go "to live, not just to die." - Social support will include Patriots mentoring our youth and provide them a guiding hand from the wealth of their experience through:
- Fishing and Hunting (Rod and Gun Club)
- Flying (Aviation Club)
- Hot Rods (Automotive Club)
- Farming & Horticultural Club

Co-located within some of our the CCRCs will be a Dementia Village. Our Concept: is to build homes specially designed to create conditions were residents are challenged and remain active. Please join us in this noble endeavor.
Abandoned Brothers & Sisters
At the height of the Afghanistan and Iraq War we had 145,000 boots on the ground. Many do not realize we also had more than 155,000 Federal Government Civilians and Battlefield Contractors (Companies operating under US Government Contracts) in support roles (e.g., logistics, maintenance, training, linguists, security). Learn more

No one is tracking these Abandon Brothers & Sisters. Granted some are Veterans, however, they are Civilians operating in "Theater", on the battlefield.

They encountered the same stress and injuries afflicted upon our Warriors. Many have no support network, no medals or honors. Their sacrifices must not be forgotten!
It is an honor to be of service to our country. Help get the word out!! God Bless!