Patriot Outreach
Supporting all Military Service Men, Women, Retirees, Veterans,
Government Civilians, Battlefield Contractors, First Responders and
their Families.



"Reason and Emotion"
A Walt Disney Classic
In 1943 Walt Disney produced this Academy Award nominated short subject, Reason and Emotion. In this classic short subject, Disney, with the help of a noted psychologist, uses the simple art of animation as a medium to make complex and mysterious concepts understandable.

Reason and Emotion masterfully exposes the workings of our most basic but hidden nature -- one that, although we are unlikely to admit it, we all struggle with.
Double Click the Play button in the middle of the screen to play




My Testimonial
COL Antonio P. Monaco
Featured Articles
The Real Cost of the War
A special report: Why is the U.S. ignoring battle-scarred soldiers?

Warning Signs, Triggers and Coping Strategies
by COL Kathy Platoni
(Psy.D.), 307th Medical Group
Support

LifeLine Resources
Best Online Support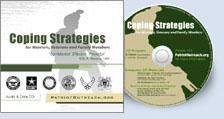 Coping Strategies
TM

A special Multi-Media CD - an offline version of the PatriotOutreach website
Sounding Off!
Listen in! and, discover more insights, news and feedback.
Get The Word Out!

Patriot Outreach is a (501 (c)(3) tax-exempt) non-governmental, non-profit foundation with limited resources. If you have benefited from this service or share in our mission, please help us reach others.