Abandoned Brothers & Sisters
Throughout its history, the Department of Defense (DOD) has relied on Government Civilians and Battlefield Contractors to support a wide range of military operations and critical roles in supporting U.S. troops. Over the last decade in Iraq and Afghanistan, and before that, in the Balkans, contractors accounted for 50% or more of the total military force.

No one is tracking these Abandon Brothers & Sisters. Granted some are Veterans, however, they are Civilians operating in "Theater", on the battlefield.
They encountered the same stress and injuries afflicted upon our Warriors. Many have no support network, no medals or honors. Their sacrifices must not be forgotten!
DOD - Contractors in Afghanistan and Iraq:
Background and Analysis - PDF
Congressional Research Service
Moshe Schwartz, Joyprada Swain

DOD had more contractor personnel in Afghanistan and Iraq (155,000) than uniformed personnel (145,000). Contractors made up 52% of DOD's workforce in Afghanistan and Iraq. Since December 2009, the number of DOD contractors in Afghanistan has exceeded the number in Iraq.
Department of Defense's Use of Contractors to Support
Military Operations
Congressional Research Service


Moshe Schwartz

, Jennifer Church
In 2004, Lane was driving a fuel truck in Iraq for a defense contractor when insurgents attacked his convoy with rocket-propelled grenades.
Civilian Contractors under Military Law- PDF
U.S. Army Strategic Studies Institute
Marc Lnderman
UCMJ's jurisdiction now clearly extends to military contractors in Iraq and Afghanistan.
Census Counts 100,000 Contractors in Iraq - Article
The Washington Post
By Renae Merle
There are about 100,000 government contractors operating in Iraq, not counting subcontractors, a total that is approaching the size of the U.S. military force there, according to the military's first census of the growing population of civilians operating in the battlefield.

Contractors in Iraq Are Hidden Casualties of War
Los Angeles Times / ProPublica
By T. Christian Miller
In 2004, Lane was driving a fuel truck in Iraq for a defense contractor when insurgents attacked his convoy with rocket-propelled grenades. For most of the five years since, Lane, now 60, has spent his days in silence -- a reminder of the hidden costs of relying on civilian contract workers to support the U.S. war effort.
His wife, Linda, said visiting her husband was difficult. They were childhood friends and fiercely loyal to each other. On this spring morning, she caressed his hand and told him she loved him.
Civilian workers in Iraq suffering combat trauma
By Anna Badkhen
Chronicle Staff Writer
"He scans pastures and chicken farms for roadside bombs. He shoots wary glances at the faces of shoppers and moviegoers, searching for potential suicide bombers. Explosions blow off Thompson's limbs, over and over, in nightmares that stalk his sleep. The war haunts him the way it haunts thousands of U.S. troops returning from their tours of duty in Iraq..."




My Testimonial
COL Tony Monaco
Featured Articles
The Real Cost of the War
A special report: Why is the U.S. ignoring battle-scarred soldiers?

Warning Signs, Triggers and Coping Strategies
by COL Kathy Platoni
(Psy.D.), 307th Medical Group
Support

LifeLine Resources
Best Online Support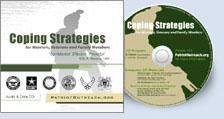 Coping Strategies
TM

A special Multi-Media CD - an offline version of the PatriotOutreach website
Sounding Off!
Listen in! and, discover more insights, news and feedback.
Get The Word Out!

Patriot Outreach is a (501 (c)(3) tax-exempt) non-governmental, non-profit foundation with limited resources. If you have benefited from this service or share in our mission, please help us reach others.