Governor (Col.) Samuel Merrill Mausoleum Restoration
Restoring an American Hero
"Ten-Hut! Mission Accomplished!!"
Thank You, Patriots! You made it happen!!
Iowa Governor Terry Branstad (red shirt) and Jonas Cutler (Project Director, In Suit) hosted the rededication Ceremony of Governor Merrill Mausoleum.
Thank You, Governor! Well Done Jonas!!
Again, Your support made the Difference!!
Nearly 100 Iowans gathered to remember former Governor Samuel Merrill by dedicating his newly restored Mausoleum in Woodland Cemetery in Des Moines.

Organizer Jonas Cutler took a few minutes to describe Merrill's contributions. "When the shots were fired at Fort Sumter Iowans responded," said Cutler, "Those uniforms of the first, second and third volunteer regiments [during the Civil War] were funded by Samuel Merrill. Those men that fought at Wilson Creek were wearing Merrill uniforms." He went on to describe how Merrill was wounded leading a charge in the Vicksburg campaign.
After the war, Merrill became governor from 1868-1872, during what's commonly called Reconstruction. Cutler quoted from Merrill's first inaugural address regarding the former slaves, where he said they would come to Iowa "transplanting to our soil that love of liberty which impelled them from their old homes. The sturdiest defenders of freedom are those who have felt its loss."

Article:
Iowans Celebrate Governor Samuel Merrill's Mausoleum Restoration
PDF - Vesion
Iowa Governor Terry Branstad (red) visits with attendees.
Photo credit: Anita Morrill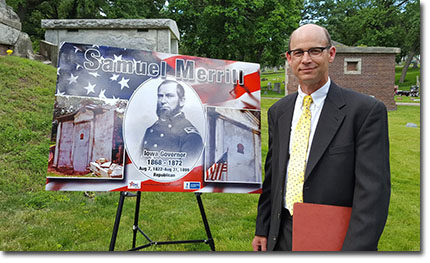 Jonas Cutler led the movement to restore Samuel Merrill's mausoleum.
Photo credit: Anita Morrill
Restoration History:
Iowa Governor (Colonel) Samuel Merrill, a Wounded Civil War Veteran, was resting, abandoned in Woodland Cemetery. His mausoleum damaged due to decades of neglect and a falling oak tree. Together we will restore his monument, leaving to future generations a testimonial of our respect. Let's honor a true American Hero, and restore our history together! Please Donate!
Breaking News! Governor of Iowa donates $1,000!
See how he did it on C-Span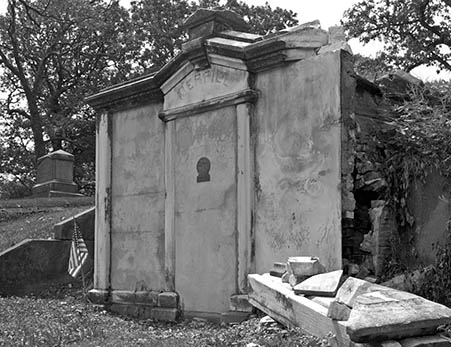 Due to extensive damage caused by a falling oak and a century of neglect, the final resting place of Governor Merrill has become home to raccoons and opossums rather than the respectful resting place of an Iowa Civil War hero. This cannot be allowed to continue. Drawing together the efforts of dozens of creative people we will restore this, continuing our proud traditions.
Abolitionist-Civil War Veteran
Samuel Merrill served Iowa and our nation with distinction as a Colonel during the civil war. "The 21st Iowa, Colonel Samuel Merrill, first in the battle, and one of the last to leave the field."

- General Carr, Division Commander. The Brigade led by Colonel Merrill distinguished themselves at the Battle of Big Black River Bridge when they surprised the enemy, charging the left flank causing the Rebel defenses to collapse, forcing them to retreat. He "led his men through a storm of leaden hail," and was so horrifically wounded that his injuries were initially declared "mortal." General Ulysses S. Grant, referred to Merrill's intrepidity as "eminently brilliant and daring." Grant later stated that had Merrill not been a general officer, he (Grant) would have recommended him for the Medal of Honor.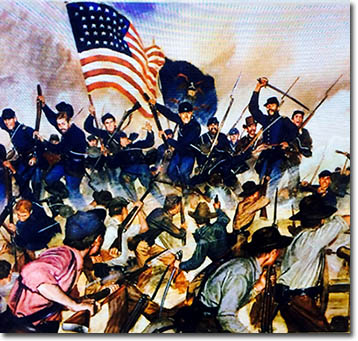 Iowa Tradition
The Officers and men of the Iowa 21st Volunteer Regiment passed a resolution in the field, to care for the sons and daughters of their "comrades who have fallen in this great struggle for God and human freedom." In 1887 Governor Merrill was granted a pension due to wounds received in the Civil war which he donated to support three beds for disabled soldiers in a hospital at Des Moines. "In the war for preserving the unity of the Republic, the people of Iowa bore a leading and brilliant part." Governor Samuel Merrill, Inaugural Address January 1868.
Restoration
We have gained the services of contractors and craftsmen skilled in historical restoration, appeared before the Citizens Cemetery Advisory Committee to the Des Moines Parks and Recreation Department as well as the State Association for the Preservation of Iowa Cemeteries, building coalitions, coordinating talent and spent untold hours researching. There is energy and motivation in our state and nation to restore this mausoleum to its proper dignity. It was determined in 1979 that no Merrill descendants remained to care for this monument, together we must and we will.
"While discharging my duty, to be diligent in aiding the development of our State, to labor for the success of our schools and charities...it has been my privilege to realize the intelligence, justice and humanity of our people…[A]s I pass from the one station to the other, permit me to unite with you in dedicating ourselves, our commonwealth, and our country anew to freedom."
Governor Samuel Merrill, farewell address, 1872.
Samuel Merrill is a testimony to our traditions, let's not allow that tradition include neglect.

Samuel Merrill - 'Restoring Our History Flyer':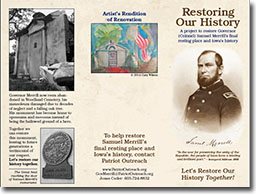 Need a Charity? Check out Patriot Outreach, a Grassroots Charity combating Stress, Suicide and creating Assisted Living Communities.
Download a printable flyer
CFC Determination Letter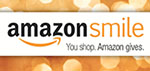 Patriot Outreach Communities PSA Video
Patriot Outreach Proclamations
2014:
'Patriot Outreach Day,'Fayetteville, North Carolina (Ft. Bra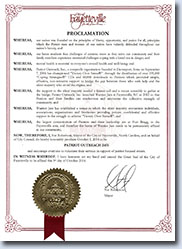 gg):

'Patriot Outreach Day,'
State of North Carolina: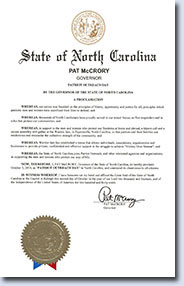 Self-Help Resources Guide: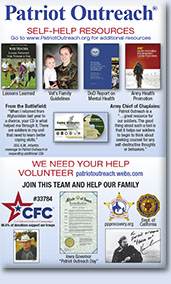 Get The Word Out!
Patriot Outreach is a (501 (c)(3) tax-exempt) non-governmental, non-profit foundation with limited resources. If you have benefited from this service or share in our mission, please help us reach others.