Patriot Outreach
Supporting all Military Service Men, Women, Retirees, Veterans,
Government Civilians, Battlefield Contractors, First Responders and
their Families.



| | |
| --- | --- |
| Complimentary Newsletter | |
Sign up for the debut issue of Outreach, the Patriot Outreach email Newsletter. Receive the latest articles, stories, commentary and professional insights.

An Open Solicitation:
Our Editor-in-Chief invites all Patriots to forward, for consideration, any items of interest for publishing or posting in our Newsletter or Web site to:
editor@PatriotOutreach




My Testimonial
COL Antonio P. Monaco
Featured Articles
The Real Cost of the War
A special report: Why is the U.S. ignoring battle-scarred soldiers?

Warning Signs, Triggers and Coping Strategies
by COL Kathy Platoni
(Psy.D.), 307th Medical Group
Support

LifeLine Resources
Best Online Support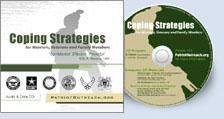 Coping Strategies
TM

A special Multi-Media CD - an offline version of the PatriotOutreach website
Sounding Off!
Listen in! and, discover more insights, news and feedback.
Get The Word Out!

Patriot Outreach is a (501 (c)(3) tax-exempt) non-governmental, non-profit foundation with limited resources. If you have benefited from this service or share in our mission, please help us reach others.