Project Ruth
Non-invasive manual therapy to aid Veterans and Active Duty members address complex health issues and manage physical and mental pain
What is Project Ruth?
Project Ruth is a Patriot Outreach program that helps Veterans and Active Duty members work though their complex health issues by helping them manage their physical and mental pain. This is done by applying CranioSacral Therapy, a non-invasive manual therapy.

In this program a minimum of three Upledger trained practitioners will work on one person for 2 hours a day for three consecutive days, resulting in 6 hours of hands on manual therapy. The equivalent of an individual receiving treatment from a single practitioner for 9 months of bi-weekly 1 hour sessions.

The Project Ruth treatment program may help benefit those with:

- Concussion and Traumatic Brain Injury
- Migraines and Headaches
- Chronic Neck and Back Pain
- Stress and Tension- Related Disorders
- Motor-Coordination Impairments
- Brain and Spinal Cord Injuries
- Chronic Fatigue
- Central Nervous System Disorders
- Post-Traumatic Stress Injury
- Many Other Conditions

---
Articles and News Reports: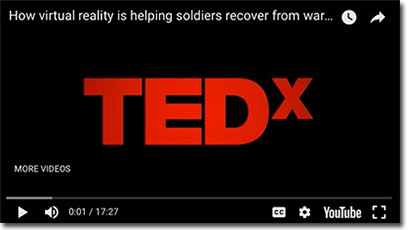 A 'must watch' video about how we can to do more to support Our Warriors and Veterans. Professor Skip Rizzo shares new applications for virtual reality, once thought to be a technology for the entertainment industry. Experience "BraveMind" and meet a "Sim Coach," Virtual Reality tools to help Our Warriors and Veterans recover from war.
Improving Lives Through Virtual Reality Therapy - American Psychological Association
Advancements in virtual reality technology have not only led to improved experiences for people who enjoy video games but they are also treating very serious psychological and physical disabilities. In this episode, psychologist Albert "Skip" Rizzo, PhD, discusses research into the effectiveness of virtual reality therapy and how this technology can improve the therapist-client relationship.


VR Brings Dramatic Change To Mental Health Care - Forbes
Today, Bravemind is sophisticated enough to insert minute details of a PSTD patient's inciting incident. How many people are in the vehicle? Where are they sitting? What kind of road are they on? What time of day is it? Or are they on foot in a bazaar? Is it crowded with civilians? Are there vehicles present? Civilians? Helicopters overhead? All these details can be added to the simulation. The operator can play the scene forward and back, slow it down, or freeze the frame, all reflecting the patient's narration. The Army is currently spending two million dollars on a 70-site clinical research trial of Bravemind.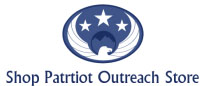 Health Resources & Info.
Self-Help Resources Guide: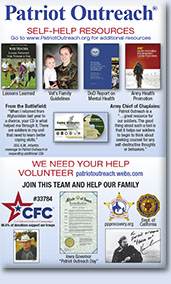 Patriot Outreach - Quick Facts

:


Virtual Reality Applications to Address the Wounds of War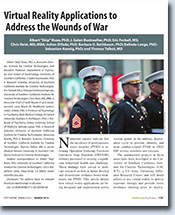 Clinical Virtual Reality Tools to Advance the Prevention, Assessment, and Treatment of PTSD
European Journal of Psychopathology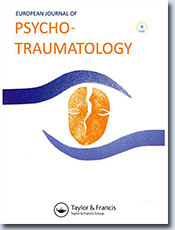 Online Video Library Directory
MedVR Research Group USC Institute for Creative Technologies:
OMNILIFE VR Technologies - VR technology that transforms lives into Magical Immerse Experiences.

Support

LifeLine Resources
Best Online Support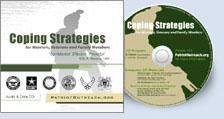 Coping Strategies
TM
A special Multi-Media CD - an off-line version of the Patriot Outreach website