Army psychologist using new ways to treat stress
by Mark Hare
(April 22, 2007) — As bad as it is, I find it miraculous that "only" 15 percent to 30 percent of returning Iraq war Veterans are dealing with post traumatic stress disorder or some related mental health problems. This war has no front line, the enemy is impossible to identify, the dangers are everywhere. There is no safe place.

"Nobody comes back unaffected," says Army Lt. Col. Kathy Platoni, a clinical psychologist from Centerville, Ohio, and a reservist who spent 11 months in Iraq living with the troops and leading combat stress programs.

But the degree to which Soldiers are affected by combat depends on two factors, Platoni says. "The first is a person's pre-existing psychological pre-disposition," she says, "and the second is how much trauma you've been exposed to."
In other words, multiple tours of duty in combat, as is common in Iraq, significantly elevate the risk of PTSD, which may not appear until months or years after exposure.

Platoni, who will speak at the University of Rochester Medical Center on Thursday, says her 11 months in Iraq (the last four months in Anbar Province, where so much of the sectarian violence originates) was "a life-changing experience" that gave her a real sense of what it's like to be "exposed to the rigors of combat, to be working with people you may not see the next day."

"We had some pretty heavy casualties," says Sgt. Ryan Vallery, who met Platoni in Iraq in 2005. Vallery, 23, of Buffalo, says his unit averaged 1.3 mortar attacks a day. "You never left your room" except to leave for patrols. The stress was constant. Platoni, he says, "was someone you could talk to about it, who could help us process our feelings." That was essential, he says.

Decades ago, there was no treatment for what we now call PTSD — except to suck it up and get back to work. Today, the Army recognizes that the psychological effects of war are real, and by sending clinicians to combat zones to assess and begin treating Soldiers, it's sending an important message — it's OK if you need help, it's here.

There are two types of mental health teams in Iraq. "The fitness/restoration teams work with Soldiers who have been overcome by psychological symptoms," Platoni says. "The Soldiers are transported to Baghdad or the nearby Balad Air Base, which serves as a trauma and medical evacuation center. They are allowed to rest and afforded a range of services, from occupational and group therapy to medication evaluation, and anger and stress management."

Prevention teams are mobile, visiting with units to assess factors that could play a role in PTSD — everything from the availability of supplies to commanders' willingness to listen. They also teach coping skills.

"The idea," she says, "is to help Soldiers deal with the impact of loss and suffering on the spot, and to help form even stronger relationships."
"It's impossible to go into combat and not be afraid," she says. "But you have to learn to compartmentalize your fear, to find meaning and purpose" even in the most ordinary and, conversely, trying of events. "You have to learn to entertain yourself with what's available, often stupid, juvenile behavior." It's part of learning to survive.

Going to Iraq was important to her understanding of what Soldiers are dealing with and to earning their trust — a key factor in treatment.
It is high time that PTSD be recognized and dealt with for what it is. The enormous toll it exacts on Veterans and their families ought to give our leaders pause. It is another reason to send young men and women to war only as an absolute last resort — and to get them home as quickly as possible, not to send them back again and again.

---


Mark Hare has been a local columnist for the Democrat and Chronicle since 1997. Before that, he was editorial page editor for the afternoon Times-Union, and before that deputy editorial page editor for the Democrat and Chronicle. He began his career there as a reporter in 1984. He is a native of Owego, Tioga County. He is a graduate of St. John Fisher College and the State University at Brockport. He was a high school teacher for six years before switching to journalism.








My Testimonial
COL Antonio P. Monaco
Featured Articles
The Real Cost of the War
A special report: Why is the U.S. ignoring battle-scarred soldiers?

Warning Signs, Triggers and Coping Strategies
by COL Kathy Platoni
(Psy.D.), 307th Medical Group
Support

LifeLine Resources
Best Online Support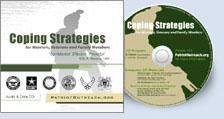 Coping Strategies
TM

A special Multi-Media CD - an offline version of the PatriotOutreach website
Sounding Off!
Listen in! and, discover more insights, news and feedback.
Get The Word Out!

Patriot Outreach is a (501 (c)(3) tax-exempt) non-governmental, non-profit foundation with limited resources. If you have benefited from this service or share in our mission, please help us reach others.