Call Roy Masters on "Advice Line"

For over 45 years Roy Masters has counseled those afflicted by issues pertaining to stress, relationships, health and spirituality. He is also the acclaimed author of more than 16 books about those selfsame topics. Roy served in the British Army and is well acquainted with the effects of stress and war.

Millions have seen or heard Roy Masters on such popular shows as Sean Hannity's WABC Show, CNN's "Larry King Live," "Sally Jesse Raphael," "Crossfire," and "The Drudge Report."

Today Roy Masters, often referred to as the Father of Talk Radio, can be heard live on over 130 radio stations nationwide.

Roy encourages all Warriors and Patriots to call his radio program for advice or questions regarding the Exercise "Be Still and Know".



Call Roy live at: 1-800-866-8883

Weeknights 2100 – 2300 hrs West Coast time (0400 - 0600 ZULU)







My Testimonial
COL Antonio P. Monaco
Featured Articles
The Real Cost of the War
A special report: Why is the U.S. ignoring battle-scarred soldiers?

Warning Signs, Triggers and Coping Strategies
by COL Kathy Platoni
(Psy.D.), 307th Medical Group
Support

LifeLine Resources
Best Online Support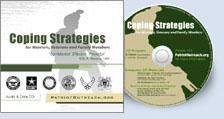 Coping Strategies
TM

A special Multi-Media CD - an offline version of the PatriotOutreach website
Sounding Off!
Listen in! and, discover more insights, news and feedback.
Get The Word Out!

Patriot Outreach is a (501 (c)(3) tax-exempt) non-governmental, non-profit foundation with limited resources. If you have benefited from this service or share in our mission, please help us reach others.