Patriot Outreach Sponsors

Patriot Outreach and the many Warriors, Veterans and Families who have benefited from the generous support Supporters and Sponsors, wish to express our gratitude for your warm-hearted assistance in helping to reach so many lives.

These work institutions embrace a noble and true spirit of giving; as our Warriors bear to protect our Families. We continue to diligently work everyday, Souls Touching Souls! Join the Team!! Become a Sponsor!!
Working Together, Making a Difference!
If you would like to express your gratitude for those who have served our great nation please contact call us or message COL(R) Shafferman about sponsoring an Event, Warrior or Outreach.
Featured Sponsors:

Learn More - Job Application
Edelbrock Family Foundation
EiKO Certified Green Lighting
Ryan Daniel Music

Goliath Pictures
WallBoard Specialties
Elemental Wellness Spa
Insulation Specialties
Phillco Construction LLC
Joe Gravino, CFP

KC Specialty Therapeutics, LLC

Warning Signs, Triggers and Coping Strategies
by COL Kathy Platoni
(Psy.D.), 307th Medical Group
Become a Sponsor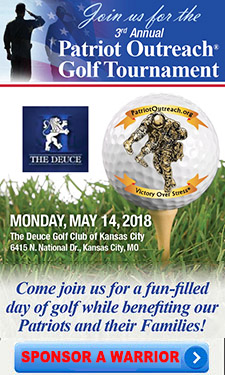 Support
LifeLine Resources
Best Online Support
Coping Strategies
TM

A special Multi-Media CD - an offline version of the PatriotOutreach website
Sounding Off!
Listen in! and, discover more insights, news and feedback.
Get The Word Out!

Patriot Outreach is a (501 (c)(3) tax-exempt) non-governmental, non-profit foundation with limited resources. If you have benefited from this service or share in our mission, please help us reach others.


2016 Patriot Outreach Golf Tournament
Northland Lifestyle Magazine
March 2016