Patriot Outreach
Supporting all Military Service Men, Women, Retirees, Veterans,
Government Civilians, Battlefield Contractors, First Responders and
their Families.
Support Patriot Outreach
As requests for free materials from Warriors, Veterans and their Families are now increasing rapidly, please consider making a tax-deductible donation to help defray the high costs of providing our services to them without charge.

Make a Contribution





Ryan Daniel Patriot Outreach Tour
The tour is designed to promote the mission of safety, care and prevention to our Warriors, First-Responders, Government Employees and their Families who suffer from the effects of war. At this time, those returning from theatre of operations need help to boost morale, as military resources are dwindling. We are providing free music concerts at no cost to the host military base.

The tour will tentatively visit the 132 major active military installations. Ryan Daniel will perform a show at each location and share our Coping Strategies CD.

Support the Tour


For more information you can vist the tours web site PatriotTour.org for details.


Corporate Sponsorship
We sincerely welcome sponsorship by businesses and organizations. Please contact us about sponsorships.


Philanthropic Support
Monetary donations, gifts in kind, and sponsorships that improve the quality of life of individuals and communities that Patriot Outreach serves, can be made directly or anonymously to Patriot Outreach

We have a number of substantial projects in mind that we would like to be able to do, but which would require significant funding. If you are considering a large donation to support such a project, or to support a project that you think would be helpful, please contact Col. Monaco at Contact Patriot Outreach. We would be pleased to discuss anything you might have in mind.


Get A Coping Strategies CD with a Tax Deductible Donation
Civilians can obtain a complimentary copy of Coping Strategies with a tax-deductible donation of $25 or more. Your contribution helps provide free CDs to Warriors, Battlefield Civilians and their Families, and to help Get The Word Out!! Order CD

Volume Coping Strategies CD requests can also be received with a tax deductible donation, please contact Patriot Outreach for details.



---

Non Profit Status:
Patriot Outreach, Inc. is an Oregon Not-For-Profit Corporation (a non-governmental foundation); and a Federal Tax Exempt organization recognized by the Internal Revenue Service under section 501 (c) (3) of the Internal Revenue Code.

Patriot Outreach IRS Determination Letter:
IRS Approval Letter (PDF)

Contributions to Patriot Outreach are considered Tax Deductible. Please confer with your financial or legal advisor for tax and legal advice.

Patriot Outreach 2013 Annual Report:
We, Patriot Outreach (PO), have successfully provided assistance to our Armed Forces, Veterans, Retirees, Government Employees, Battlefield Contractors, First Responders and their Families (Patriots).

We delivered without charge effective and confidential tools, and coping strategies, to combat anger, stress, and even PTSD.
Our resources help bridge the gap between those who seek professional help and the silent majority.
2013 Annual Report (PDF)

Patriot Outreach CFC Determination Letter 2013:
2013 CFC Determination (PDF)

Patriot Outreach Independent Auditor's Report:
Auditor's Report 2014 (PDF)


Patriot Outreach 2012 IRS Form 990 Filing:
2012 IRS 990 (PDF)


---

Sponsor a Military Times Promotional Feature
One of the best ways to reach troubled Service Men and Women is through featured promotions in leading military publications. For a limited time Patriot Outreach can take advantage of special advertising rates normally available only to members of the Combined Federal Campaign.


Publications:

Choose the branch of service you would like to reach:

$1,548 for 1 week
Sponsor Now
$1,548 for 1 week
Sponsor Now
$1,548 for 1 week
Sponsor Now
$1,548 for 1 week
Sponsor Now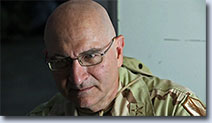 My Testimonial
COL Antonio P. Monaco
Featured Articles
The Real Cost of the War
A special report: Why is the U.S. ignoring battle-scarred soldiers?
Warning Signs, Triggers and Coping Strategies
by COL Kathy Platonic
(Psy.D.), 307th Medical Group
Support
LifeLine Resources
Best Online Support
Coping Strategies
TM

A special Multi-Media CD - an offline version of the PatriotOutreach website
Sounding Off!
Listen in! and, discover more insights, news and feedback.
Get The Word Out!

Patriot Outreach is a (501 (c)(3) tax-exempt) non-governmental, non-profit foundation with limited resources. If you have benefited from this service or share in our mission, please help us reach others.